On April 5, Global CIO Forum in association with Arcon held VirtualSummit on Smart Information Security – Management Perspective. The theme of the summit was a panel discussion based on specific, measurable, achievable, relevant, and time-oriented or SMART goals of security experts.
The following speakers joined the event:
Lalit Popli, COO, Arcon
Illyas Kooliyankal, CISO of one of the largest Islamic Bank in Middle East
Sujatha Narasimhan, IT Security Consultant
Nithin Geo Thomas, Head of Information Technology, Amity University Dubai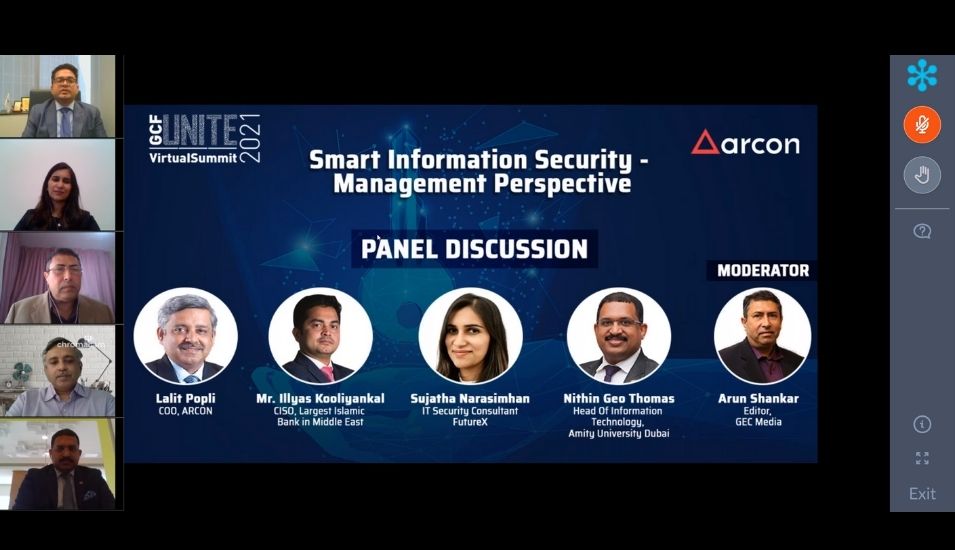 In the first round of the panel discussion, the best and most effective security practices were discussed. Kooliyankal pointed out that it is important to note how we manage the risk in information security and in that data protection needs to be taken care of with focus on access management control.
Narasimhan spoke about the most underrated practice which is security awareness programme for employees. Popli while concurring with Narasimhan stressed that security awareness is everyone's responsibility in the organisation and not just of the CISO or security team. Thomas said that identifying risks and having a mitigation plan are among the best security practices.
The discussion progressed by highlighting the thumb rule used to justify a return from cybersecurity investment for the CFO or executive leadership. The panellists said that innovative solutions to secure investments, aligning security solutions with business objectives, value addition, cost reduction and following an innovative approach are some of the key factors used in justifying the security investment. Right security can optimise the costs for other operations in the organisation as well, said Kooliyankal.
Narasimhan pointed out that AI and ML open the Pandorra's box and how right now everyone is looking at the pros of these technologies. Kooliyankal highlighted that these technologies result in faster meantime to respond to a breach while Thomas said that these are additional help, but it is all about how you train the system.
---
The panel discussion was concluded by a very interesting Q&A on smart security solutions.