On March 10, Global CIO Forum hosted a VirtualSummit titled Rise With NetApp and Ingram Micro. The event featured keynote sessions, technical education, innovation hour, strategic partnerships, and partner awards. The VirtualSummit also focused on NetApp and Ingram Micro relationship in the Middle East.
---
Maya Zakhour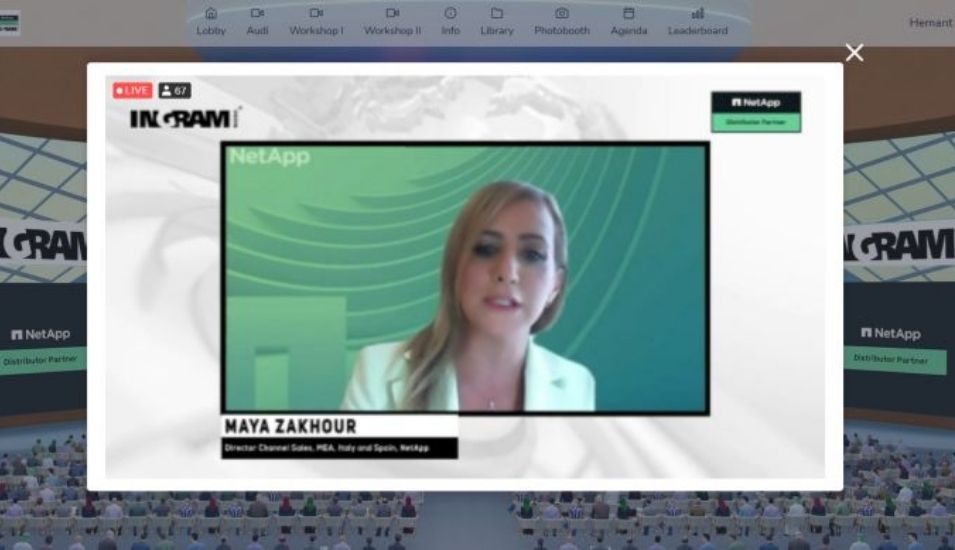 Maya Zakhour, Director Channel Sales MEA, Italy and Spain, NetApp introduced the VirtualSummit. Zakhour praised and highlighted the contribution of NetApp partners especially during the tough year of pandemic. Ingram Micro has played a strategic role in the development of the NetApp channel partner strategy and the ecosystem.
The virtual summit progressed with keynote sessions by Dr Ali Baghdadi, SVP Chief Country Executive META, Ingram Micro; Marc Montiel, VP of Enterprise Focused Countries, NetApp and Kristian Kerr, VP EMEA Partner Organisation, NetApp.
---
Dr Ali Baghdadi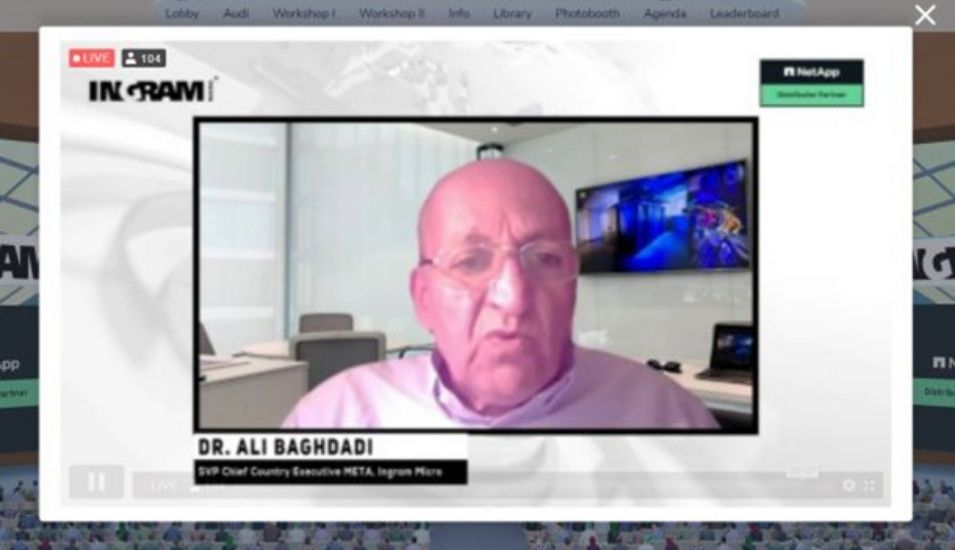 Covid-19 accelerated digital transformation across all verticals but 2020 also saw a big spike in cyberattacks across the globe. Dr Baghdadi started the keynote session by highlighting the importance of safeguarding individuals working from home and protecting enterprise data. Resellers need to be ready to provide customers what they need today and tomorrow. Covid-19 also impacted the budget in a severe manner and enterprises now tend to spend only on the best solutions which address today's challenges, he added.
---
Marc Montiel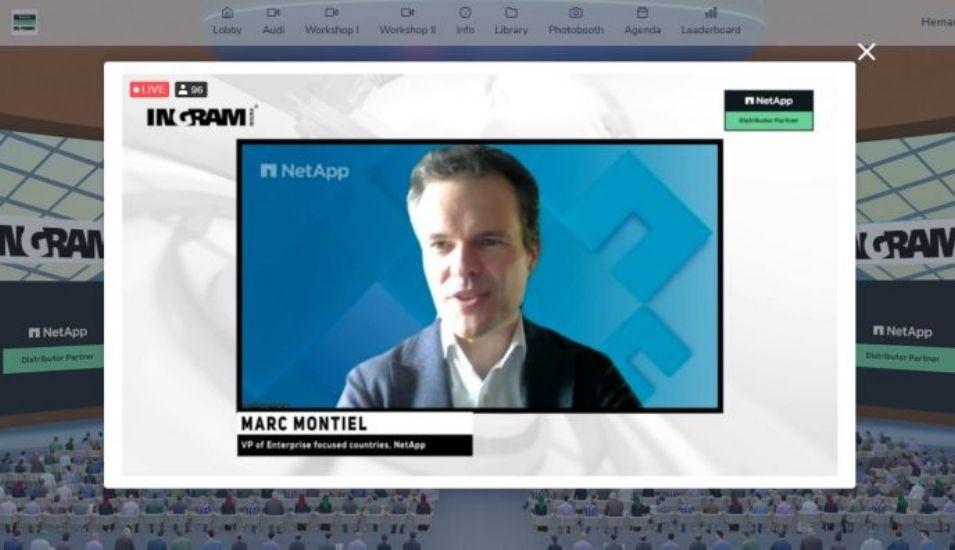 Marc Montiel of NetApp delivered the second keynote session. Montiel spoke about strong technology trends like artificial intelligence and cloud in the Middle East. Montiel elaborated on NetApp and Cisco partnership for AI and cloud. He also highlighted how Flexpod AI can help in digital transformation. NetApp and Cisco partnership also helps enterprises in moving their data into the cloud in a secure way.
---
Kristian Kerr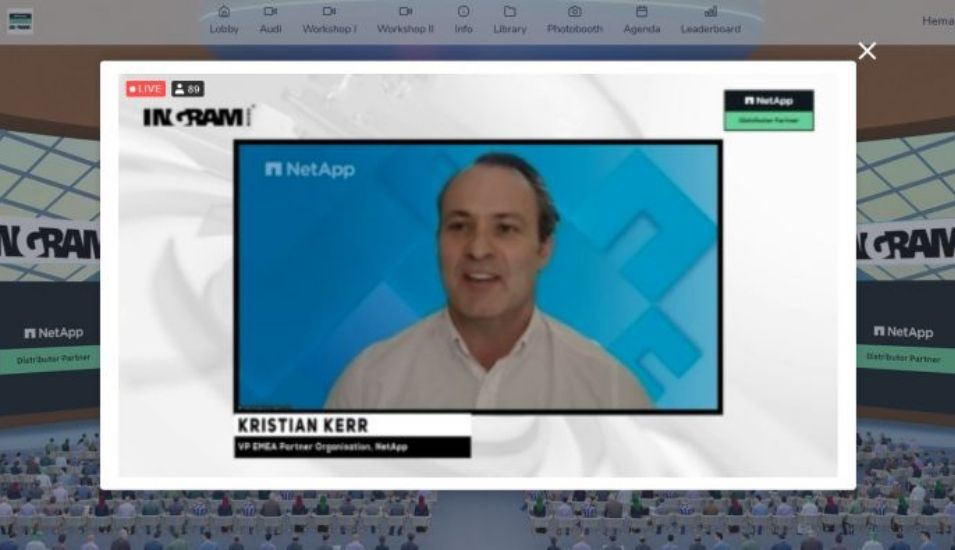 Kristian Kerr of NetApp took the VirtualSummit forward by applauding the partners who have been able to adapt to the changing times to capture the market. Kerr remarked that cloud is the platform and data is the currency. He added that DevOps is another key area of opportunity for partners to upscale and support organisations.
Kerr said that the accelerated adoption of technology is also causing a cloud maturity skills gap. Hence, partners can also tap into this opportunity by offering professional services, migration services and consultancy to support enterprises in building skills related to cloud.
---
Bahaa Salah and Shaikh Mohammed Ahmed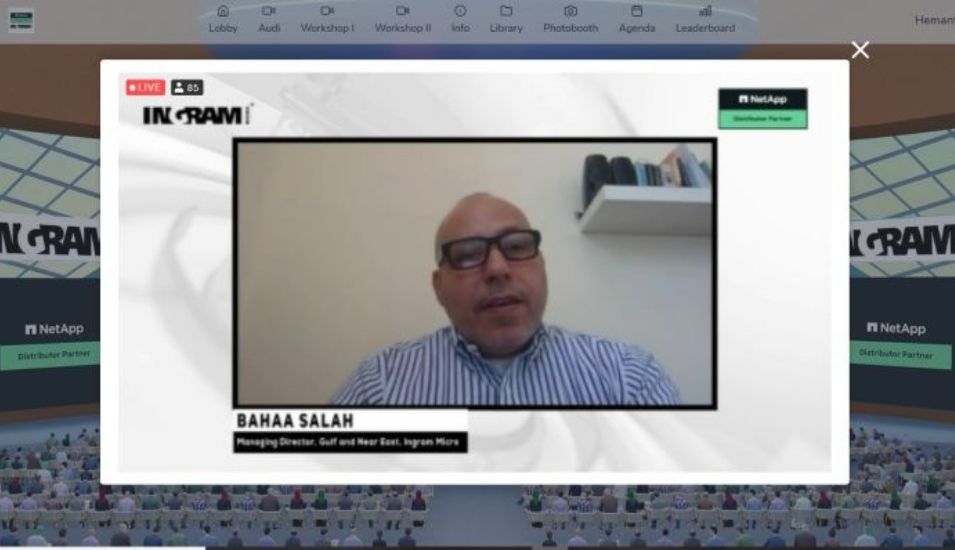 From the Ingram Micro team, Bahaa Salah, Managing Director, Gulf and Near East and Shaikh Mohammed Ahmed, Managing Director, KSA delivered keynote sessions.
Salah pointed that driven by the pandemic, nowadays budgets of enterprises are based on return on investment. He added that partners need to act as trusted advisors to end users and make IT infrastructure perform better. Partners need to have strong combination of services on-premises and cloud, offer solutions for managing storage and security, added Salah.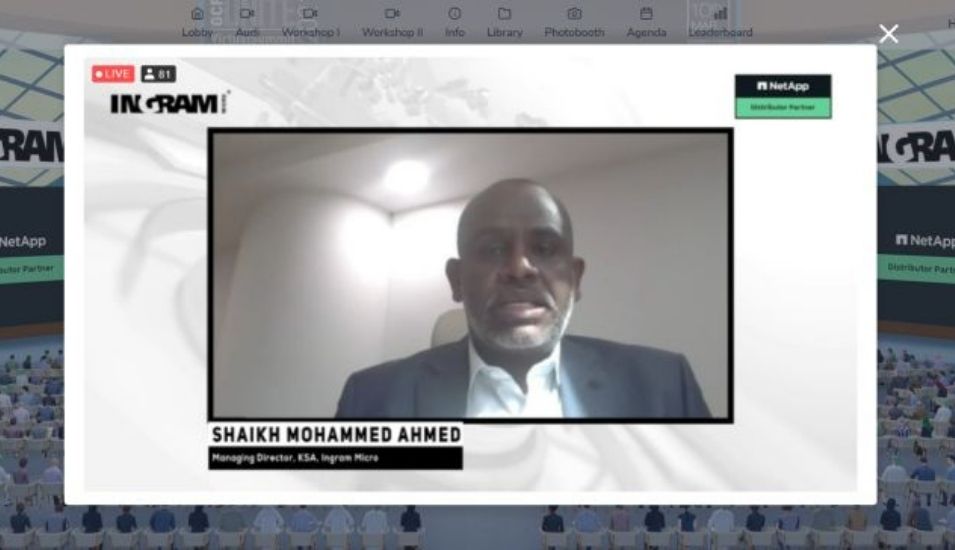 Ahmed pointed out the long partnership of Ingram Micro and NetApp and their growth strategy.
---
Matt Watts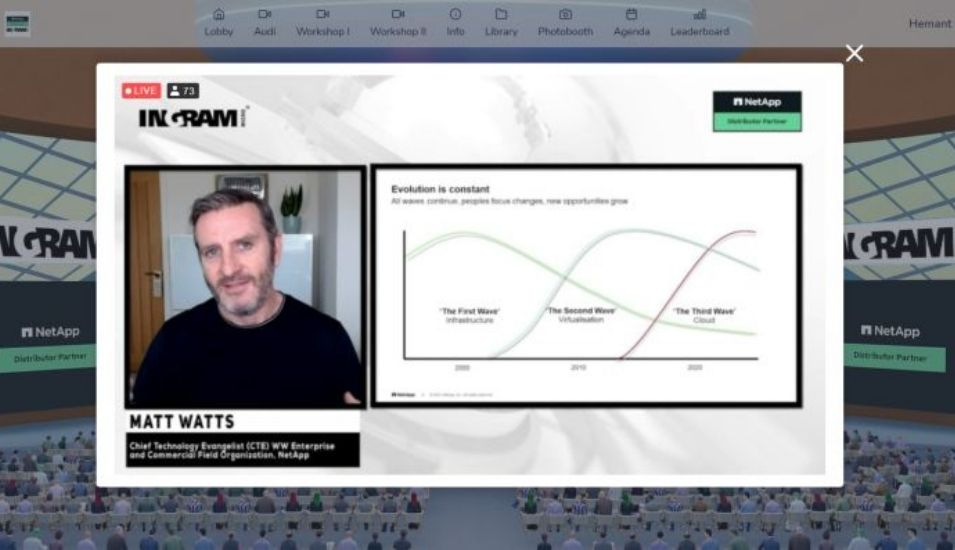 The next session was the Innovation Hour by Matt Watts, Chief Technology Evangelist, WW Enterprise and Commercial Field Organisation, NetApp. Watts discussed the industry trends, IT evolution and rise of data fabrics. Watts also gave a very engaging demo of NetApp Cloud Manager.
Uzair Qadar, Global Partner Alliance Manager, Microsoft and Shadi Salama, Channel Lead UAE and Gulf, Cisco focused on strategic and global alliances with NetApp.
---
Panel discussion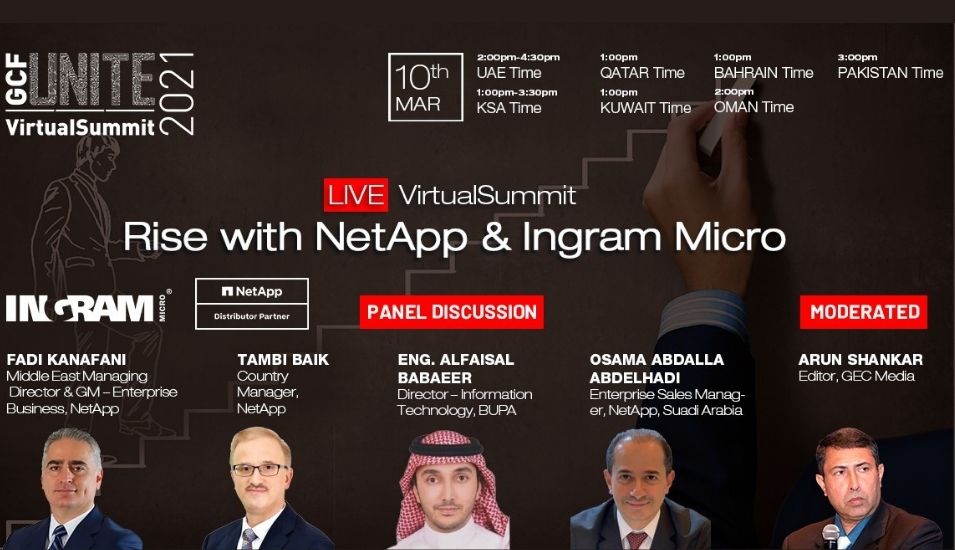 Arun Shankar, Editor, GEC Media moderated a panel discussion titled Building Scale and Agility in Datacentres to Manage Transformation Challenges. The panel included the following speakers:
Fadi Kanafani, Middle East Managing Director and GM-Enterprise Business, NetApp
Tambi Baik, Country Manager, NetApp
Eng Alfaisal Babaeer, Director-Information Technology, BUPA
The discussion with Babaeer focused on the business activities of BUPA in Saudi Arabia and the main driver of the growth in business. Babaeer also highlighted the principal services in demand.
Over the last 12 months there has been tremendous disruption to businesses in the region. Prior to that Saudi Arabia has also embarked on an aggressive journey of digital transformation of businesses towards Vision 2030. Babaeer summarised the expectations of the internal business heads and the external customers, as well as the bottlenecks from legacy IT infrastructure.
Kanafi also spoke about the expectations of regional enterprises in terms of the solutions and performance in demand and what they expect from leading global digital transformation vendors such as NetApp.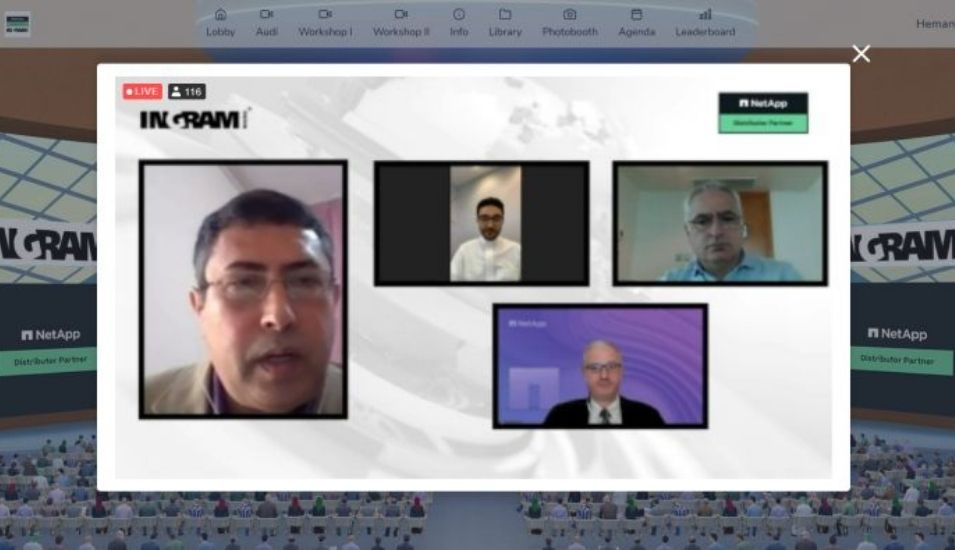 In another round of the panel discussion, Babaeer described the solutions implemented by NetApp and how internal processes at BUPA and customer facing services have improved with these solutions. Baik took the interesting topic forward by explaining how NetApp assessed the solutions required by BUPA and how the implementation was done at the datacentre and DR sites. He also spoke about the implementation completed for such solutions, when the customer is moving from legacy to digital, agile, and scalable solutions.
Babaeer and Kanafi concluded by highlighting how they innovate to meet the expectations of digitally savvy end customers.
---
Technical session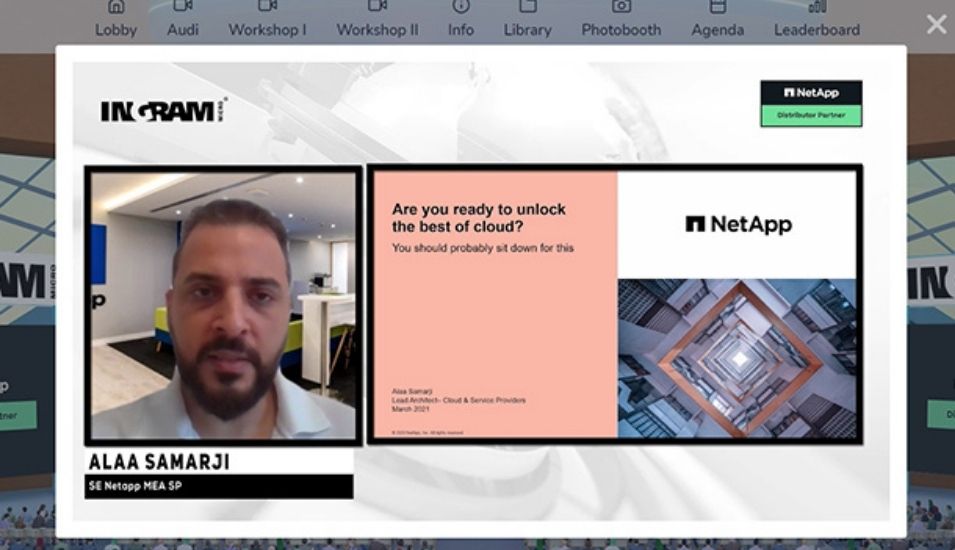 The VirtualSummit also had technical session on cloud by Alaa Samarji, SE NetApp MEA SP. The technical session on AI was hosted by Mujahid Khan, Regional Sales Manager, META, AI and HPC, NetApp and Gerhard Wolf, AI Senior Solution Architect.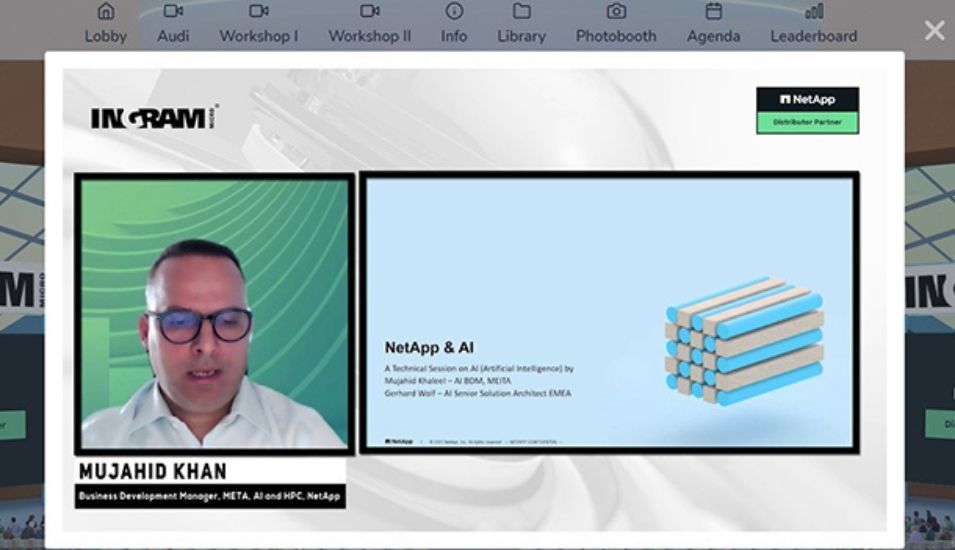 The last and most interesting session was the award ceremony for partners in KSA and Gulf region.
In KSA, Al Moammar Information Systems, MIS, won the prestigious award of The Value Creator. The Difference Maker award went to Baud Telecom Company, BTC. Solutions by STC was named the Technology Partner of the year while MDS for Computer Systems won the Best Coverage Partner award. National Computer Systems NATCOM bagged the Growth Driver recognition.
In the gulf region, Mannai won the Value Creator award. Technology Partner of the Year award was given to CNS. Best Coverage Partner of the year for Gulf was given to OCS Oman and for UAE the award went to EBM, part of Midis Group. INTERTEC won the Growth Driver award.