Global CISO Forum is all set to welcome delegates for The 6th edition of the GCC Security Symposium and CISO Awards 2022 on 17th May 2022 at Conrad Dubai, Sheikh Zayed Road in Dubai. The annual mega event continues its tradition of bringing in the best practices of modern enterprise and cyber security through expert speakers whilst recognising outstanding individuals and companies in the security field through CISO 2022 Awards and more.
GCC Security Symposium and CISO Awards 2022 announced its official event partners including Cloud Box, Human, BeyondTrust, Cohesity, Infinite Blue, Digital Track | Paesslar, Cloudsek, Multipoints | HCL, RNS, Checkmarx l Cyberknight, Atos, Finesse, Help AG, Valto l Accops, Redington, and Cybereason.
Global and regional enterprises are facing constant attacks and it is necessary to have an in-depth discussion with IT experts and related professionals in the field. This is a platform where everyone can find a solution for the current security threats and risks facing the industry. The symposium will include Keynote Speakers, Expert Panelists, Industry Speakers and their views on security and related topics.
The event attracts networking and knowledge-sharing activities along with 150+ CISOs, 30+ Expert Security Speakers, 200 Leading Organisations, 4 Decisive Panels, 4 Critical Side-Tracks, 4 Vertical Driven Segments, 10 Top Security Players Recognition, and top IT Security Heads on the board.
Agenda of the GCC Security Symposium and CISO Awards 2022:
Topic
Speaker
Registration & Coffee
Opening Remark
Global CISO Forum
Inaugural Keynote – How Government is Paving the Road Ahead for a Safer Cyber World
Dr Marwan Al Zarouni, Director of Information Services Department, Dubai Electronic Security Centre (DESC), UAE
Government Keynote – The Critical Role of Digital Transformation in Cyber Security
Brigadier Barakat Alkindi, Digital Transformation and Information Security Specialist
Keynote by Human
Mark Phillips, Vice President, Solution Architecture, International Markets, HUMAN Security, Inc.
Government Power Panel: Evaluating the role of UAE as an emerging hub for innovation in Technology
Jacob Mathew, IT Consultant, Government of Abu Dhabi
Bader Husni Zyoud, Senior Information Security & Risk Management Specialist & Incidents Manager, Central Sharjah Finance Department , Government Of Sharjah
Abdulla Bader Al Sayari, Office Manager Information and Cyber Security, Department of Health – Abu Dhabi
Developing the Cyber Security Profession in 2023 and beyond
Ian Mckay, Vice President of Global Security Transformation, People 2.0
Navigating the latest Ransomware – A Hands-on study
Gregg Petersen, Regional Director Middle East & Africa, Cohesity
Managing the challenges of digital transformation and growing attack surface by diligent device, risk, application audits.
Shaytel Patel, VP Technology Audit, DP World
Panel Discussion on Cloud Security in 2022
Moderator: Kuldeep Bhatnagar, Former CISO, EAD, Abu Dhabi Government
Srihari Upadhya, IT Security Assurance Professional
Jacopo Genoni, Chief Confidentiality Officer, Deloitte Middle East
Jeevan Badigari, Director of Information Security (CISO) DAMAC Properties
Dr Fene Osakwe, Information Technology and Business Advisory professional
Rahul Sasi, Executive Chairman and Founder, CloudSEK
Amit Roy, General Manager & Head of Cybersecurity, Middle East, Turkey and Africa, Atos
Vendor Keynote
Inifinite Blue
Lunch Break
The Importance of Ensuring Cyber Safety of Children
Hanadi Al Yafei, Director of Child Safety Department, Child Safety Department – Sharjah
CyberSecurity Trends and Modernizing your SOC Operations
Hesham Saad Aly, Sr. Regional Cybersecurity Specialist, Microsoft
BFSI Power Panel on Innovation and Future Security in BFSI Sector
Moderator: Nicolai Solling, Chief Technology Officer, Help AG
Hussein Shafik Bahgat, Regional Information Security Risk Officer, Standard Chartered Bank
Hussain Al Khalsan CISO Zand
Hariprasad Chede CISO National Bank of Fujairah
Shafiullah Ismail Head, Information Security & Risk Mubadala Capital
Sivakumar V CDO Lockton (MENA) Limited
Vendor Keynote
Panel Discussion on Individual Cyber Security: Empowering to Resist Spear Phishing to Prevent Identity Theft and Ransomware Attacks.
Moderator: Alessandro Bassano, Principal Cyber Security Researcher, Technology Innovation Institute
Amit Bhatia, Head of Information Security-Middle East, Asia & Continental Europe, Maximus Gulf
Hafiz Sheikh Adnan Ahmed, Chief Information Security & Data Privacy Advisor, Premier Real Estate Group
Shahab Uddin, Group IT Infrastructure & Security Manager, Ittihad International Investment LLC
Arun Tewary, Strategic Advisor & Director, FINESSE
Vendor Keynote
 Shabir Bhat, Regional Sales Director, Middle East
CISO Awards 2022 Ceremony
Future Security Awards Ceremony
Symposium closing note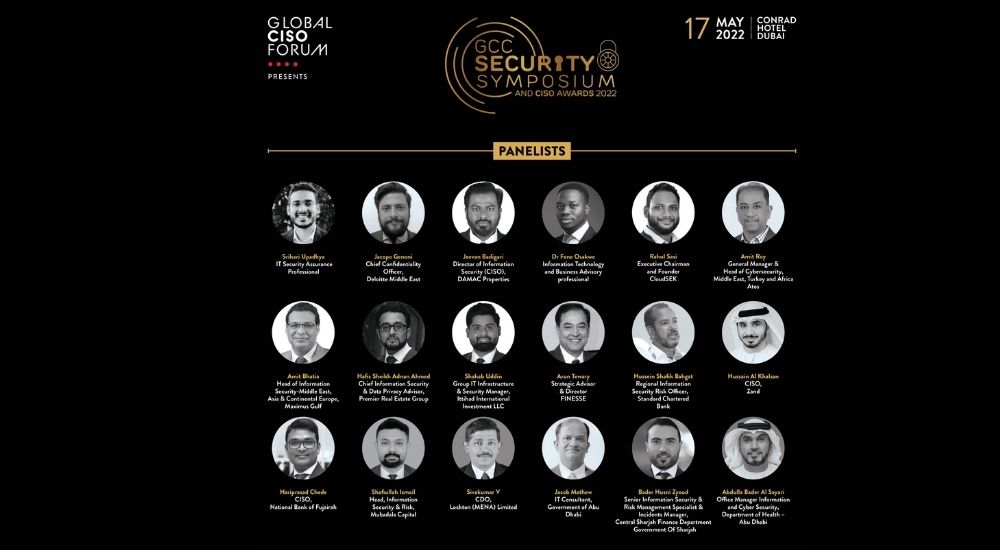 The event will assist every attendee to get in touch with new ways to cope with security issues and threats. The organisations are on their way to getting their data secure for making their business effective. With the increasing intensity of the connected world, the risk of attack is always a step ahead. The growing security concerns resulted in the high demand for cyber security solutions which should be responsible to strengthen the modern technological space.
The CISO Awards 2022, to be held in conjunction with the event, will recognise and present the illustrious and extraordinary vendors, channel partners, integrators, and consultants who direct the end-users in the industry.